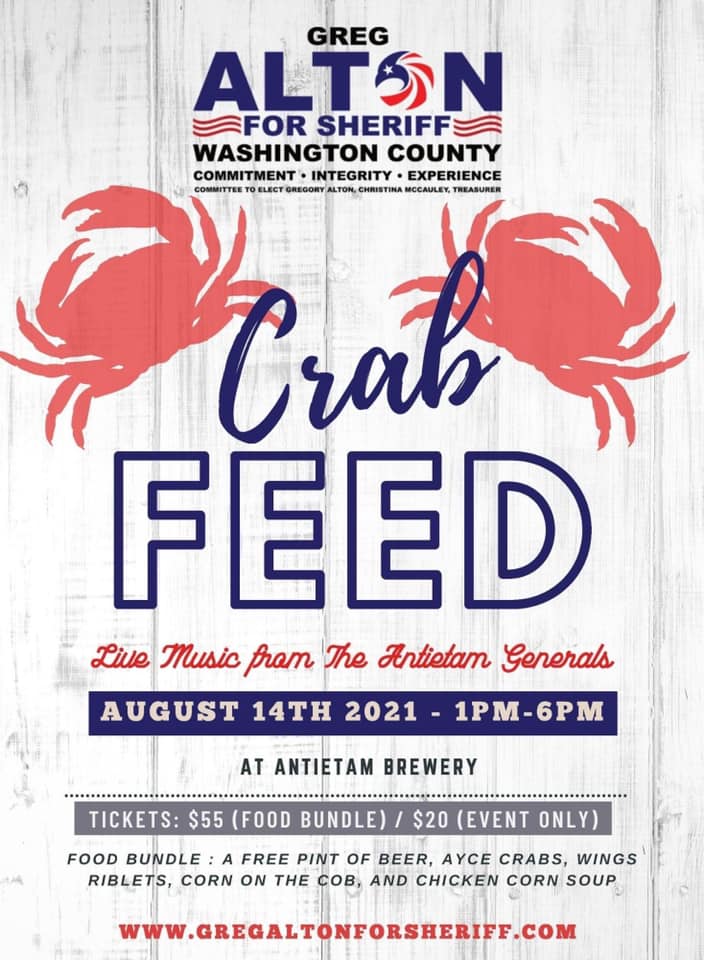 Join in the feast at the Crab Feed and experience live music, drinks, and ALL YOU CAN EAT crabs! The party starts at 1 pm and doesn't stop until 6 pm! Enjoy the sounds of The Antietam Generals live at Antietam Brewery while you crack crabs and sip some local brews.
• General admission tickets can be purchased for $20 and include A free pint of beer and entry to the event. Purchase online and Save $5 per GA ticket before August 13. You can purchase tickets by visiting:
https://www.wiynn.com/event/greg-alton-for-sheriff-crab-feed-aug-14-2021/?fbclid=IwAR0_78cnFEaVmbD7JVg_Cq8paWaMP5JcXCq26nZ7Dq2d4i2vTzejYa2D5FQ
• LIMITED Food tickets can be purchased for $55 and include A FREE pint of beer, all-you-can-eat crabs, wings, riblets, corn on the cob, and chicken corn soup. Food tickets must be purchased by July 31st.