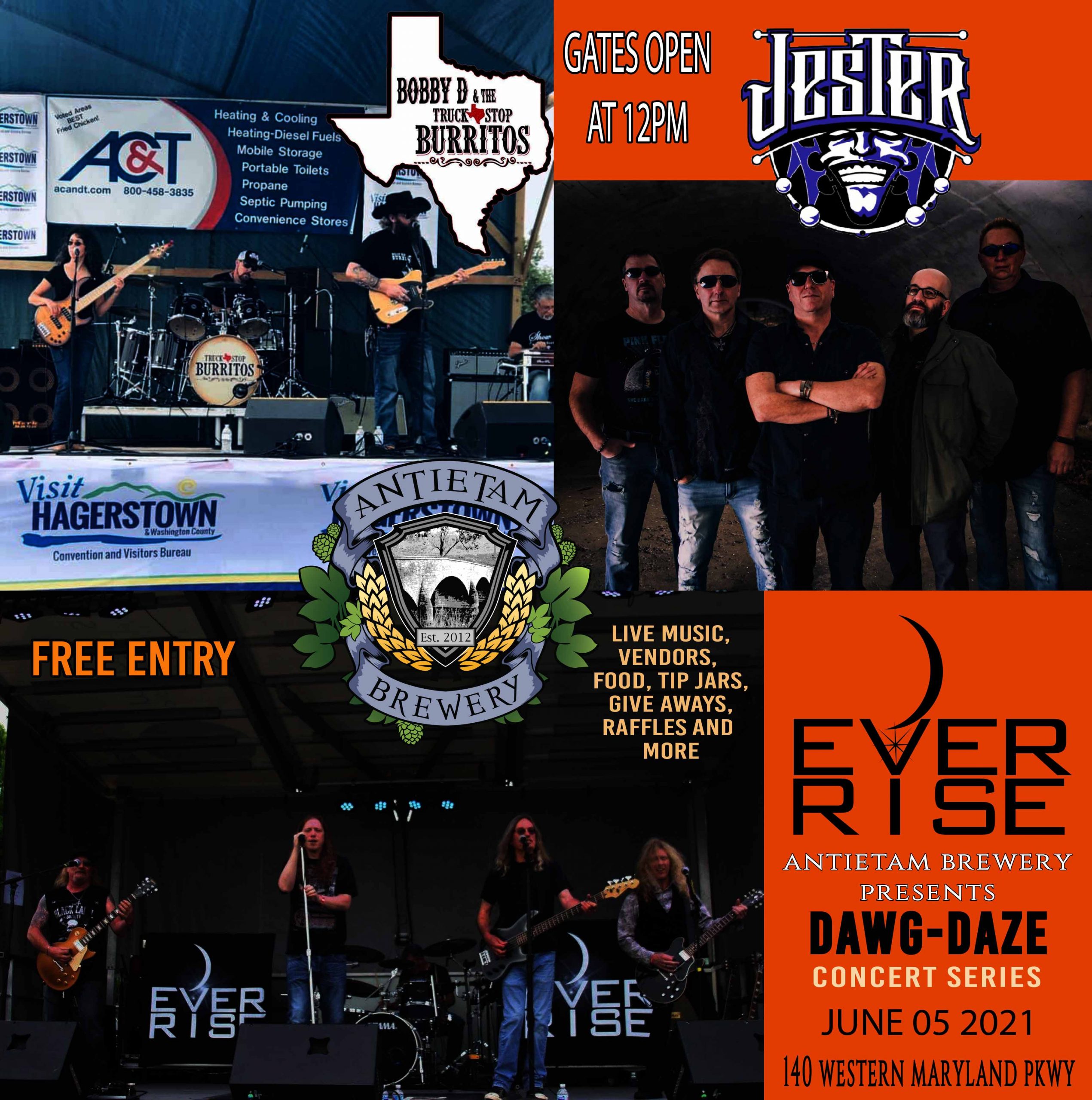 Introducing Dawg-Daze Concert Series!  Three FREE ENTRY Concerts this 2021 year hosted by Antietam Brewery.
4:00-5:30- Bobby D. & The Truckstop Burritos
6:00-7:30- Jester
8:00-9:30- Ever Rise
Check poster below for a list of bands playing at this FREE EVENT! You won't be disappointed in our lineup!
These event are family friendly, and open to EVERYONE.
Concerts are free entry, enjoy everything without having to pay to get in.
Other details include….
– Live music
– 50/50's, Raffles, Tip Jars
-Door prizes and giveaways!
– Food and Local Vendors including 2 Blondes Apparel, Cedarwood Soap, Bella's Bites, Handcrafted by Laura to name a few. If interested in a vendor spot or becoming a sponsor please contact Justin at Justin@AntietamBrewery.com
– 19+ unique Antietam Brewery Beers on tap.
– Not a beer drinker? We will be pouring local Wine and Spirits too!
– Bam-Balam-Bbqe will be smoking food all day!
– Questions? Drop us a line, and we will quickly get back to you or email Justin@AntietamBrewery.com
– Like and share if you care. See you there!!
-please wear mask and practice social distancing we wanna keep our staff safe as well as our customers during these events.
Follow Antietam Brewery's social media and website to stay updated on all the upcoming events!  Message us if you have questions.